Regular price
$113.00 USD
Regular price
Sale price
$113.00 USD
Unit price
per
Sale
Sold out
Struggling with thinning hair?

If thinning or greying hair is knocking your confidence this product can help.
Formulated and manufactured by experts in the UK, our premium vegan vitamins are packed with 22 natural ingredients to support, nourish and encourage a healthier scalp & thicker hair growth.

We are confident in our vitamins and want you to be too! You can shop risk-free with our 90 day Money Back Guarantee, for more information click here.
Containing Biotin, Potassium, Rosehip, Zinc & Soy to name only a few of our hair health boosting ingredients.

Benefits:
Helps support the body in growing thicker, healthier hair

Targets the underlying causes that damage hair & growth
Can help thicken and reduce effect of greying
Over 22 naturally occurring vitamins and minerals targeted to improve scalp health and support hair growth

Contributes towards healthier skin
Supports growth of nails, eyelashes and eyebrows
Suitable for vegans. Kosher & Halal safe. Free of Artificial Additives.
Fast Free UK Delivery 📦
All Natural 🌿
Money Back Guarantee 🔒
None Greasy 💇‍♀️
View full details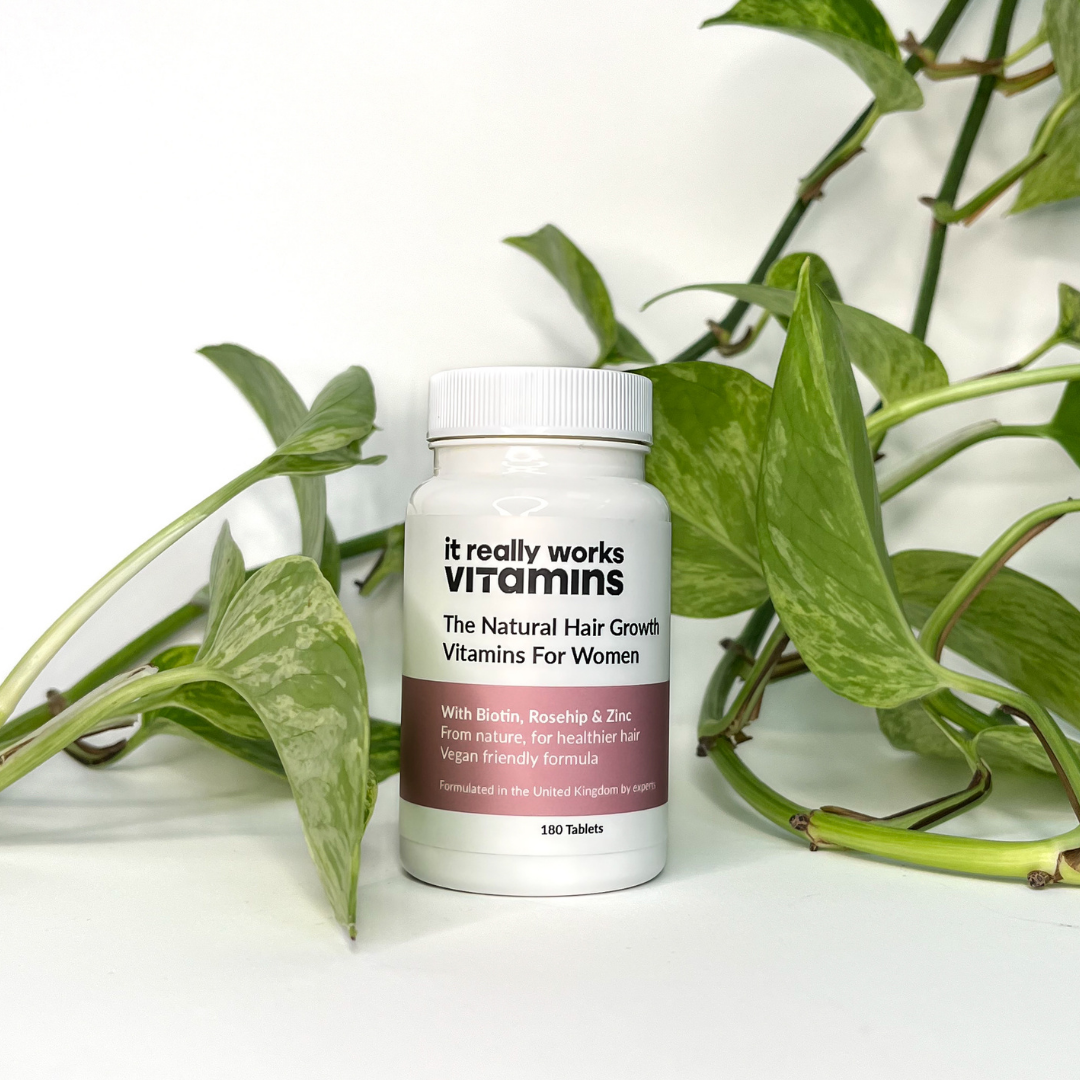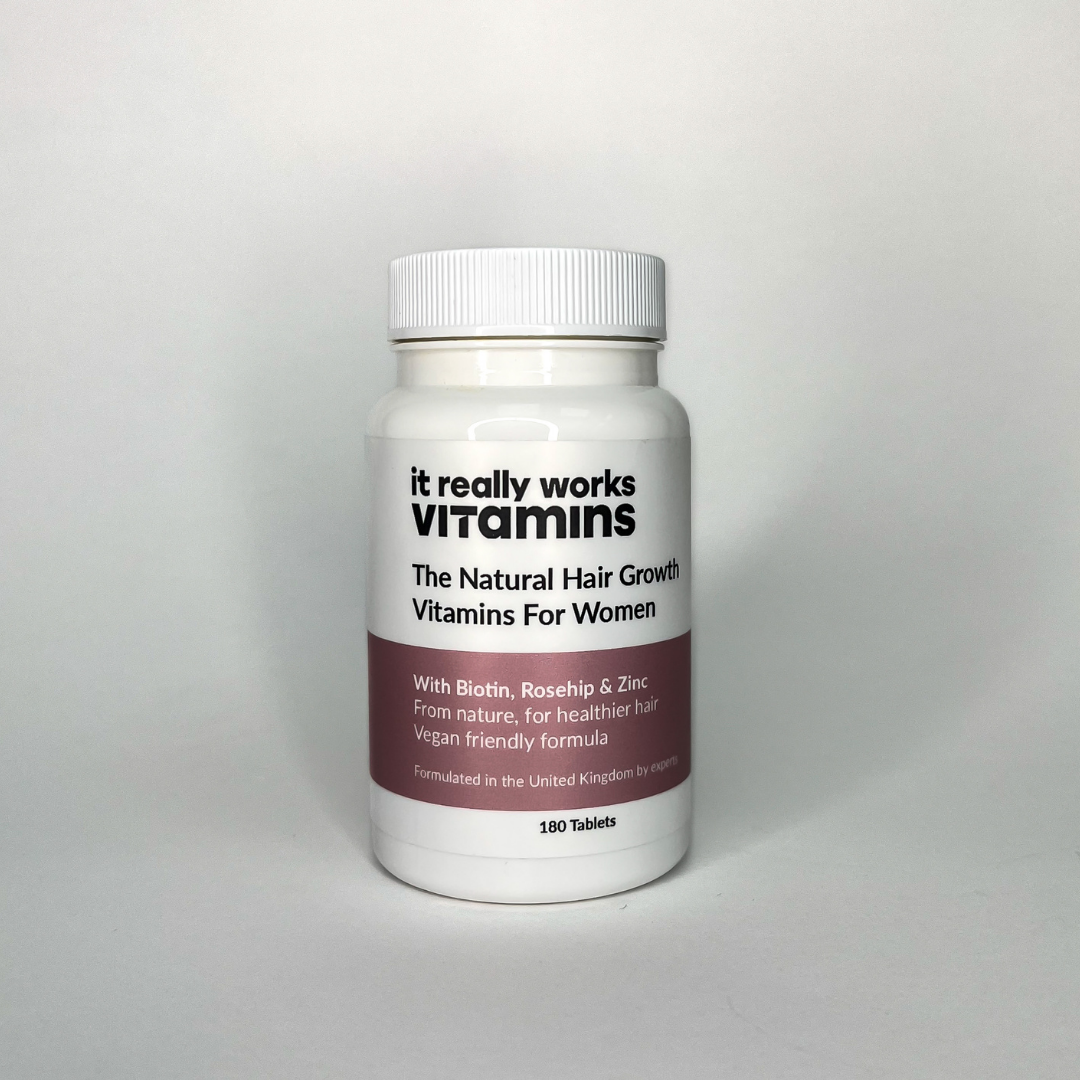 Details
Backed by Science

Our 22 nutrients help to inhibit the production of Dihydrotestosterone (DHT) and 5 Alpha-Reductase (the enzyme responsible for converting Testosterone to DHT).
Natural Ingredients

All of our ingredients are naturally occurring in your body or in nature.

See here for more details on each one.

Biotin, Copper, Folic Acid, Inositol, Iodine, Manganese, Para-aminobenzoic Acid (PABA), Rosehip, Selenium, Vitamin A, Vitamin B complex, Vitamin B2(Riboflavin), Vitamin C, Vitamin D, Vitamin E, Zinc
Instructions

Take two daily with food. For maximum effectiveness, massage scalp regularly. Consider purchasing the serum and vitamins together.
FAQ
How does it work?

It works by packing 22 naturally occurring minerals essential to hair growth in one easy package.

It helps the body block DHT and its harmful effects while actively encouraging and supporting hair growth.
Is there a guarantee?

We offer a 90 day money back guarantee, terms apply.
Will it work for me?

Well it's worked for our 10,000+ happy customers. If it doesn't work for you we will be happy to offer a refund in line with our 90 day guarantee.

PS It won't work for people currently experiencing Alopecia, or similar illnesses, though our products can be used afterwards to help support hair growth.
Are there any side effects?

No.

Unlike other hair growth treatments we do not use harmful, man made chemicals.

Our products are 100% natural and do not have adverse side affects.
Is it safe for pregnant or breast feeding women?

Our vitamins should not be consumed by pregnant or breast feeding women; our other products however can be used by them.