Fast Free UK Delivery 📦
All Natural 🌿
Money Back Guarantee 🔒
None Greasy 💇‍♀️
Regular price
$83.00 USD
Sale price
$54.00 USD
Unit price
per
Sale
Sold out
Our Hair Growth Bundle combines our brand new Hair Growth Serum with a Premium Scalp Massager, the perfect pairing! Even better, shop now with our risk-free 90 day Money Back Guarantee, for more information click here.

Our Hair Growth Serum has a base of castor oil, which helps to nourish and hydrate your scalp. This vegan serum combines a number of extracts to improve the appearance and density of hair. Also reducing signs of shedding, bringing you thicker, fuller looking hair.
Some of these extracts include:
Artemisia vulgaris (Mugwort) - rich in antioxidants
Biota orientalis leaf extract (Biotin) - improves strength of hair
Carum petroselinum (Parsley) - improves production of collagen
Rosmarinus officinalis (Rosemary) - stimulates hair growth
Our Premium Scalp Massager is a key part of your hair care routine. Use twice daily to clear the scalp of dry, dead skin while stimulating blood flow to the hair follicle.
The premium ergonomic design makes it a breeze to use, fitting neatly in your palm and allowing you to massage your scalp with even pressure for optimum results. With silicone tips that are flexible and soft to the touch, it will leave your scalp feeling great.
View full details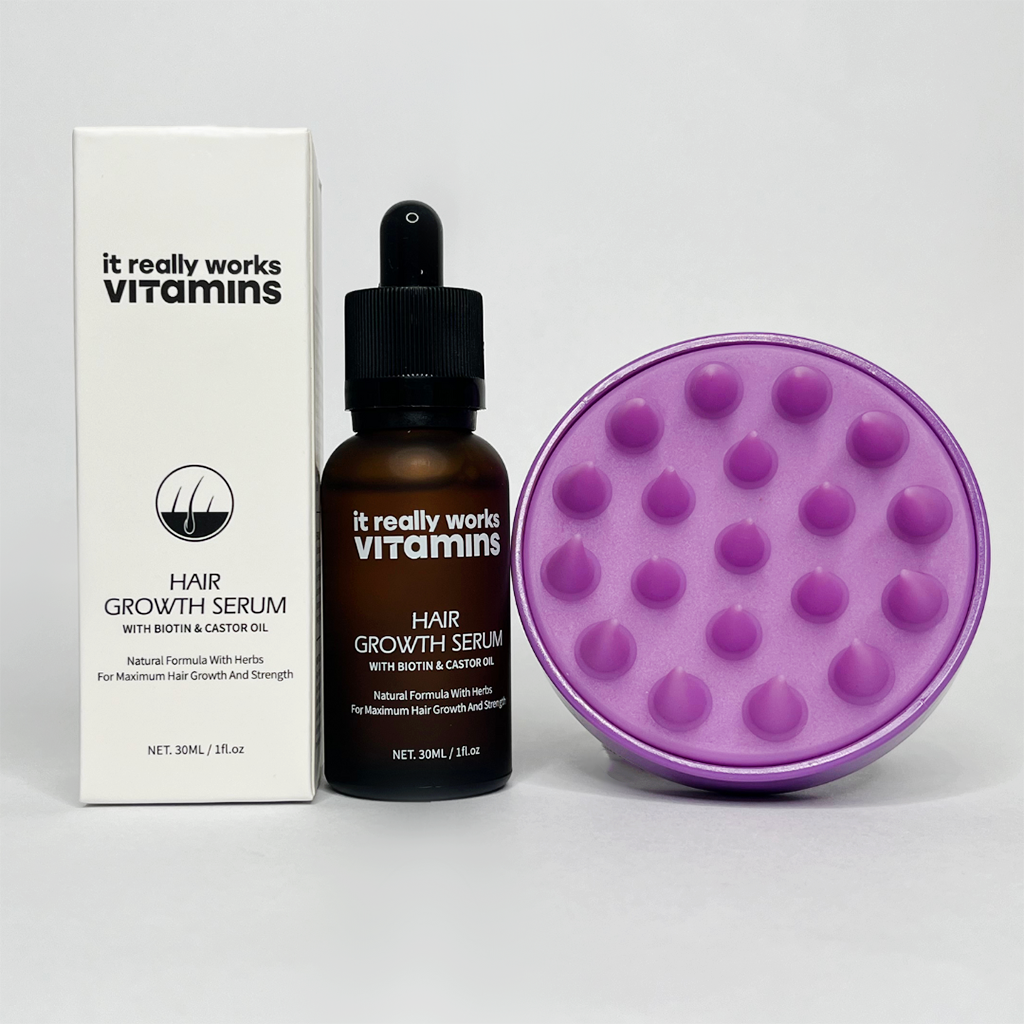 Details
Backed by Science

Our Serum contains a number of extracts proven to aid new growth and promote stronger, healthier hair.
Natural Ingredients

Our Serum has mix of natural extracts and oils to nourish your scalp.

Artemisia Vulgaris Extract, Biota Orientalis Leaf Extract, Ligustrum Lucidum Fruit Extract, Phenoxyethanol, Ligusticum Chuanxiong Extract, Polygonum Multiflorum Root Extract, Cuscuta Australis Seed Extract, Kaempferia Galanga Root Extract, Citrus Reticulata (Tangerine) Peel Extract, Zanthoxylum Bungeanum Fruit Extract, Sophora Angustifolia Root Extract, Carum Petroselinum (Parsley) Seed Oil, Peg-60 Hydrogenated Castor Oil, Rosmarinus Officinalis (Rosemary) Leaf Oil
Fast Absorption

Our super lightweight formula does not leave a greasy residue like other serums and oils. It absorbs into the hair and scalp quickly making it suitable for everyday use!
Instructions

Apply the Serum directly onto the scalp and work in with one of our Premium Scalp Massagers. Repeat twice daily for best results.
FAQ
How does it work?

Our serum is packed with nutrients to aid hair growth. By applying the serum and massaging into the scalp, you are nourishing the hair follicles, as well as removing dead skin and increasing blood flow to the area. This in turn results in new growth!
Is there a guarantee?

We offer a 90 day money back guarantee, terms apply.
Will it work for me?

It's worked for our 10,000+ customers.


If it doesn't work for you we will be happy to offer a refund in line
with our 90 day guarantee.

PS It won't work for people currently experiencing Alopecia, or similar illnesses, though our products can be used afterwards to help support hair growth.
Are there any side effects?

No.

Unlike other hair growth treatments we do not use harmful, man made chemicals.

Our products are 100% natural and do not have adverse side affects.
How long will it take to see results?

Clients have reported improvements as soon as 6 weeks, but for most it takes at least 90 days. Consistency is key in ensuring good results.
Can I use it alongside other products?

Yes, our serum can be used alongside our vitamins for even better results.
Will it make my hair greasy?

Our super lightweight formula does not leave a greasy residue like other serums and oils. It absorbs into the hair and scalp quickly making it suitable for everyday use!
Will it work if I have lost my hair?

We cannot guarantee our serum will be effective if you are already bald or experiencing hair loss due to a medical condition such as Alopecia .

However, it can be used to slow the effects of balding and improve the health of your hair and scalp.
Will it thicken thinning hair?

Yes, the majority of our customers find that it does improve the thickness of hair.
Does it slow or prevent greying?

The serum improves the health of hair, its follicles and the scalp in general. Having a healthy hair ecosystem does slow the greying of hair - but cannot reverse it.
Is It Safe?

Our serum has been formulated with care and the highest quality of ingredients. To our knowledge there are no side effects to using our serum as per our directions - up to two applications daily.
Can I use it if I have had a hair transplant?

Be sure to follow your surgeon's recommendations for after care regarding you transplant. But when your scalp is healed, our serum will boost growth and help to keep your scalp healthy!
How long will delivery take?

Inside the UK they should arrive inside 3 working days. In the US, & Canada allow 5-7 working days. In other parts of the world - up to two weeks though usually inside 10 working days.