Regular price
$129.00 USD
Regular price
$203.00 USD
Sale price
$129.00 USD
Unit price
per
Sale
Sold out
Introducing our Men's Ultimate Bundle!

We've put together a bundle with everything you need for maximum hair growth at an amazing price.
You will get...
90 Day Supply of Vitamins - Formulated and manufactured by experts in the UK, our premium vegan vitamins are packed with 22 natural ingredients to support, nourish and encourage a healthier scalp & thicker hair growth.
Hair Growth Serum - Our unique Hair Growth Serum is designed to help you achieve the luscious, healthy locks you've always wanted. With a blend of powerful natural ingredients, this miracle serum can transform your hair and boost your confidence.
Premium Scalp Massager - Our Premium Scalp Massager is a key part of your hair care routine. Use twice daily to clear the scalp of dry, dead skin while stimulating blood flow to the hair follicle.
How it works...
We think you can never have too much of a good thing. And this bundle is full of the good stuff!
When tackling hair loss, it's important to cover every factor possible. Our vitamins provide the body with key vitamins and minerals to allow your body to effectively carry out hair growth. This combined with our serum to hydrate and provide nutrients to the scalp and our massager to exfoliate and stimulate blood flow to your follicles, means that healthy hair is on it's way!
All that's left for you to do is eat a healthy, balanced diet, keep hydrated and avoid the nasties. (Alcohol, Sugar, Carbonated Sodas, Greasy Food, Refined Carbs)
Fast Free UK Delivery 📦
All Natural 🌿
Money Back Guarantee 🔒
None Greasy 💇‍♀️
View full details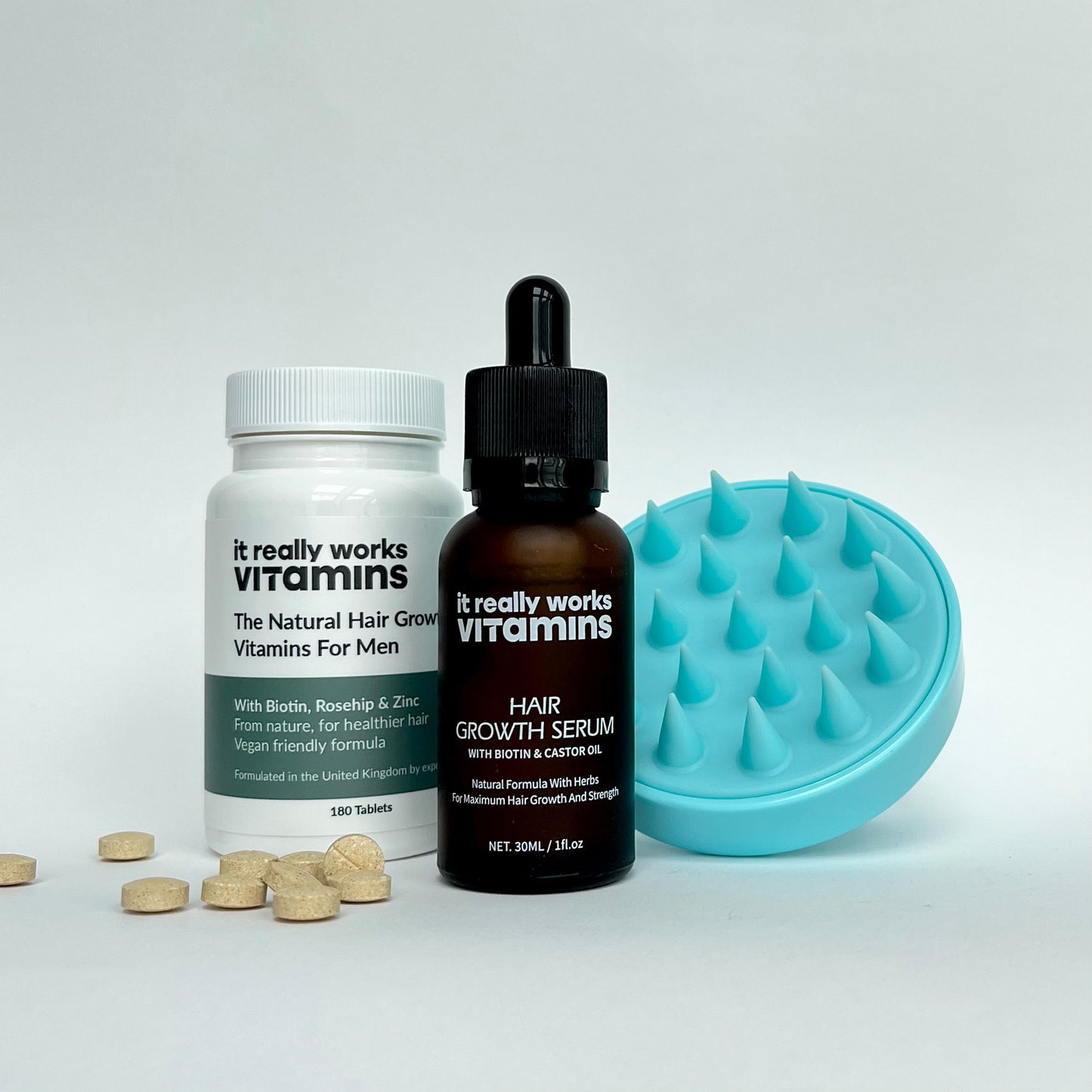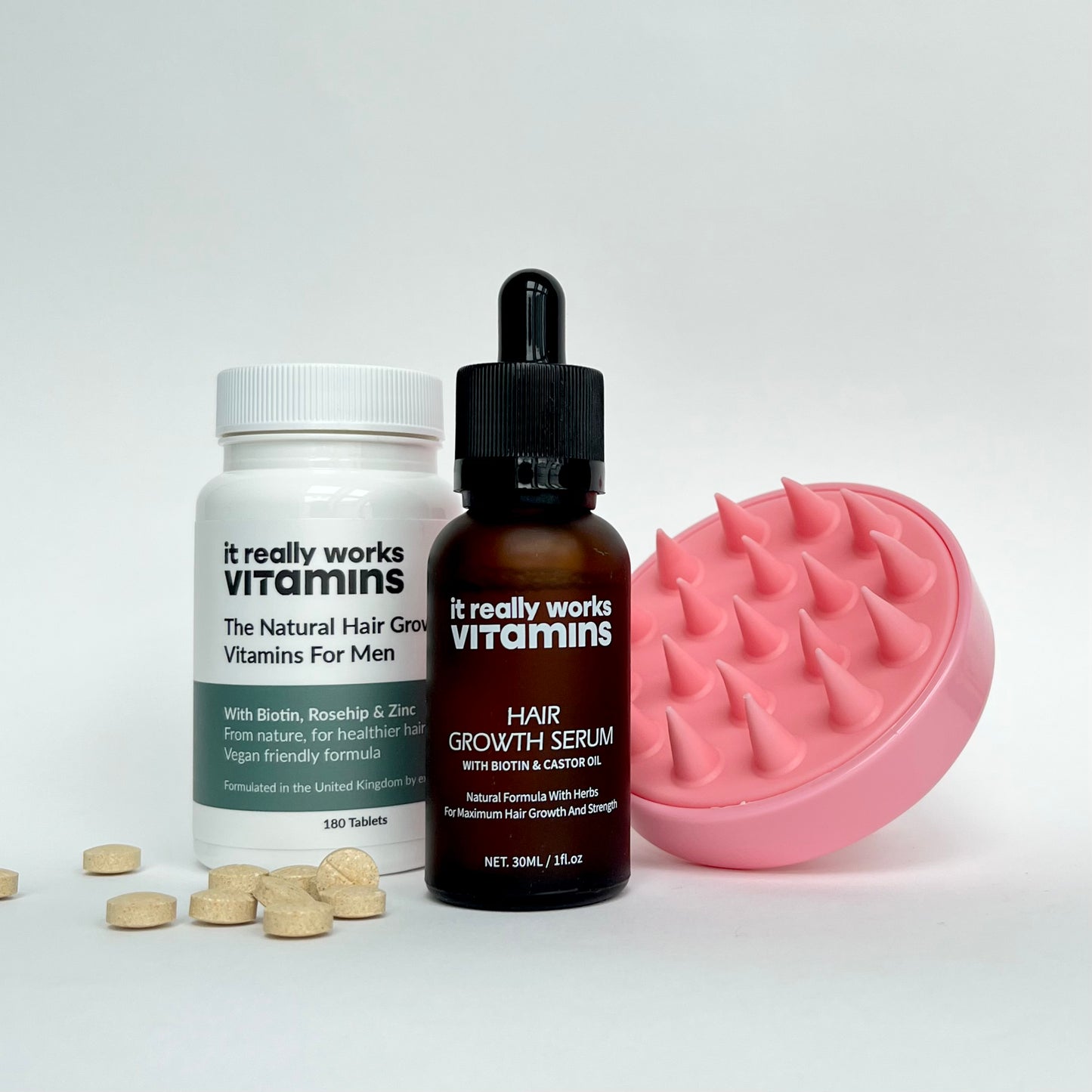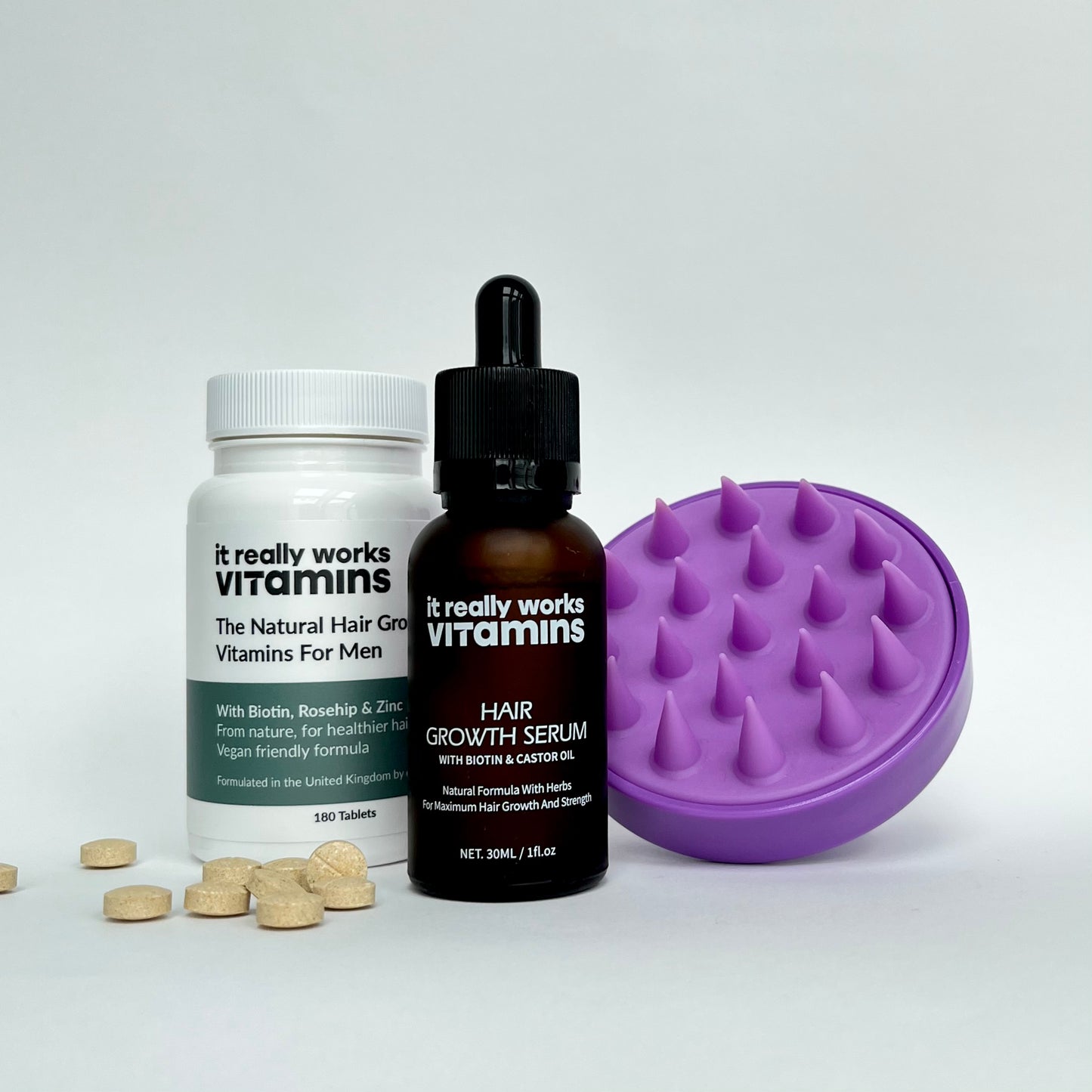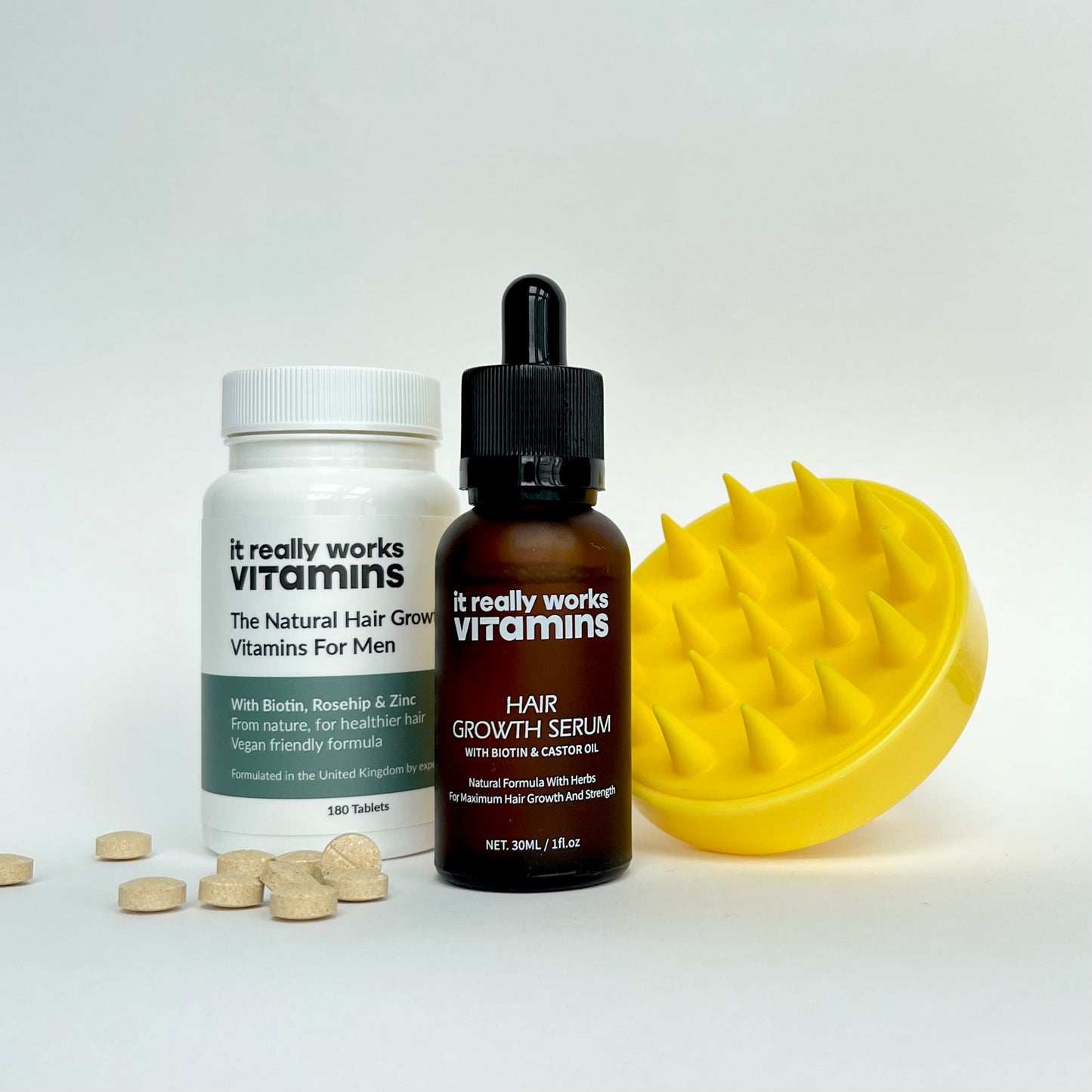 Details
Backed by Science

Our 22 nutrients help to inhibit the production of Dihydrotestosterone (DHT) and 5 Alpha-Reductase (the enzyme responsible for converting Testosterone to DHT).
Natural Ingredients

All of our ingredients are naturally occurring in your body or in nature.

See here for more details on each one.

Biotin, Copper, Folic Acid, Inositol, Iodine, Manganese, Para-aminobenzoic Acid (PABA), Rosehip, Selenium, Vitamin A, Vitamin B complex, Vitamin B2(Riboflavin), Vitamin C, Vitamin D, Vitamin E, Zinc
Instructions

Take two daily with food. For maximum effectiveness, massage scalp regularly. Consider purchasing the serum and vitamins together.
FAQ
How does it work?

It works by packing 22 naturally occurring minerals essential to hair growth in one easy package.

It helps the body block DHT and its harmful effects while actively encouraging and supporting hair growth.
Is there a guarantee?

We offer a 90 day money back guarantee, terms apply.
Will it work for me?

Well it's worked for our 10,000+ happy customers. If it doesn't work for you we will be happy to offer a refund in line with our 90 day guarantee.

PS It won't work for people currently experiencing Alopecia, or similar illnesses, though our products can be used afterwards to help support hair growth.
Are there any side effects?

No.

Unlike other hair growth treatments we do not use harmful, man made chemicals.

Our products are 100% natural and do not have adverse side affects.
Is it safe for pregnant or breast feeding women?

Our vitamins should not be consumed by pregnant or breast feeding women; our other products however can be used by them.